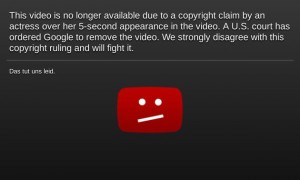 Google not required to remove 'Innocence of Muslims' video. This was a great win for freedom of speech online, and kudos to Google for pursuing it, as you may know, this 14 minute film has quite a history,
July 1st 2012 First uploaded to YouTube
Sept 11th 2012 Film falsely blamed for the savage Benghazi attack in which an Ambassador and three staff killed 
Sept 14th 2012 White House ask Google to enforce sharia law
Sept 16th 2012 Continuation of the lie by Susan Rice that the "spontaneous protest against an anti-Islam film before turning violent" led to the attack 
Sept 17th 2012 Sidney Blumenthal sent an intelligence assessment to Clinton "had been planned for approximately one month"
Sept 25th 2012 Obama "The future must not belong to those who slander the prophet of Islam" speech to UN
Sept 27th 2012 Producer of anti-Islam film arrested, ordered held without bail
Oct 9th 2012 US State department admit the Benghazi attack was unconnected with the  'Innocence of Muslims' video 
May 12th 2013 Falsely imprisoned film maker Nakoula released
Feb 26th 2014 Bad legal decision made to pull film, made on grounds of copyright, by the 9th U.S. Circuit Court of Appeals
May 18th 2015 9th U.S. Circuit Court of Appeals overturn previous bad ruling against Google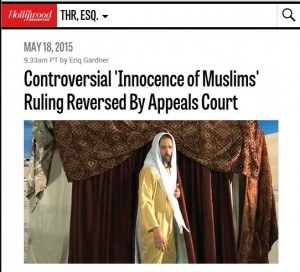 The original ruling by the appeals court in February 2014 was always obviously wrong, as rightly pointed out it would have led to demands from any actor, in any film, how ever small the part, that was not happy with the whole production demanding it's being pulled from circulation, The Hollywood Reporter explains the legal nightmare this ruling would have caused if it was not overturned (B.T.W. good on them for being the only press I have seen to be brave enough to use a still from the film in their story).
I have seen a couple of suggestions in comments on articles such as here that Cindy Lee Garcia (the claimant) should sue the filmmaker for "costs of increased security", well no, security is meant to be provided those who you pay tax to, there are plenty of other high profile targets and target groups that these savages have fatwas on, and plenty of actresses that regret parts they have taken on. Message to Ms.Garcia, you begged forgiveness for breaking sharia law, and even said you had no idea what the film was about, you submitted completely, they just aren't interested in you.
I do notice that the original link to the film on YouTube has actually not been restored, but this, a higher quality version (1080p) that was released a day later with a different title "Muhammad Movie Trailer" on the 2nd July 2012 is still there with 5.2m views:
Google never agreed this film was hate speech, they clearly understood the difference, most of the videos that Counter Jihad sites share that are later pulled to cries and accusations of "sharia enforcement", are actually taken down because Google see them as promoting acts of violence BY the jihadis, our perception is these films of exposing violent beheadings etc. to get a reaction of disgust and further support for the targeted minorities, are very different in "some" communities, where they revel in this exposure, and the same films are used as recruitment tools "come join your fellow jihadis and behead an infidel and rape his daughter". That is the only reason Google take these films off YouTube, and i think today they have proven their commitment to Free Speech.