I've noticed these articles, well they must be articles, there's no tell tale "sponsored" notice notice as you would see on an advertisement, so these "articles" embedded on the front page of (currently) the very dishonest Daily Mail at https://www.dailymail.co.uk/ushome/index.html around half way down.

The headline of this "Article" is See every angle of a story with Newzit, the UNBIASED news search and aggregation engine
You might be thinking wow, at last someone is taking on Google, who are well proven to have been manipulating search results.
But who are they, I checked the about page, but ownership details are not listed, we only see:
Welcome to this beta version of Newzit!Newzit is a new and unbiased search and aggregation tool for bona fide news sites ONLY. Content is rated by our algorithm purely for its relevance and recency, regardless of political orientation.Every news organisation has its own biases, even the ones who say they don't. But with Newzit you will always get both sides of a story. You might see articles that upset you but there is no fake news, because we won't index the sites who produce it.Pay-walled sites are treated the same as everyone else, although their content will be flagged for users.
So lots test the ownership of the domain newzit.com at https://viewdns.info/whois/?domain=newzit.com
Registry Registrant ID: REDACTED FOR PRIVACY
Registrant Name: REDACTED FOR PRIVACY
Registrant Organization: Mail Media Inc
Registrant Street: REDACTED FOR PRIVACY
Registrant City: REDACTED FOR PRIVACY
Registrant State/Province:
Registrant Postal Code: REDACTED FOR PRIVACY
Registrant Country: US
Registrant Phone: REDACTED FOR PRIVACY
Registrant Phone Ext: REDACTED FOR PRIVACY
Registrant Fax: REDACTED FOR PRIVACY
Registrant Fax Ext: REDACTED FOR PRIVACY
Registrant Email: [email protected]
But they have chosen, I expect at an extra charge to hide their ownership there also. While I also hide my identity, the reason should be fairly obvious (I get death and rape threats, yep, rape that's weird I know), a news aggregators ownership should probably not be, I think it's required of a news source to be transparent regarding ownership. NewsGuard list it as a prerequisite of not being classed as fake news.
I did find some details here: https://www.newzit.com/terms.html
About us
This site is operated by Mail Media Inc., a company registered in New York with a registered office at 51 Astor Place 9th Floor New York, NY 10003 ("we", "us", "our"). You can contact us at .
Well I have a company name and an address now, lets google the name "mail media inc" https://www.google.com/search?q=%22mail%20media%20inc%22
nothing comes up for me: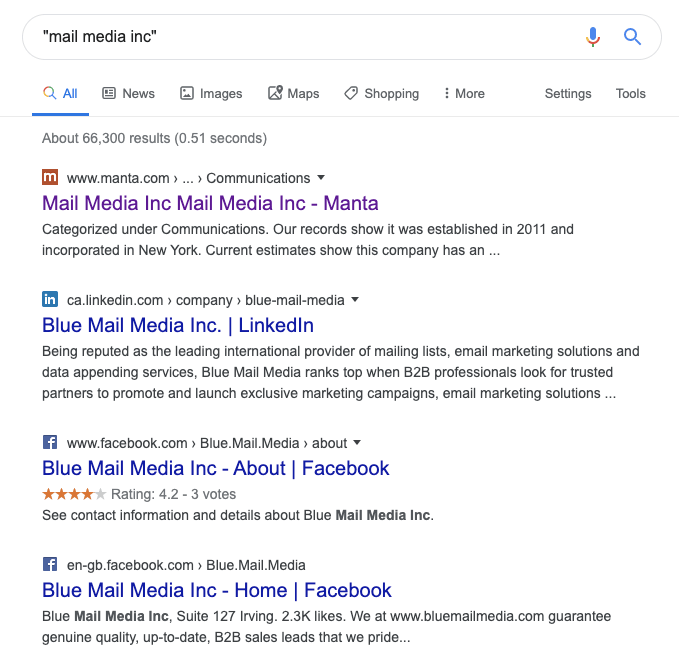 But clicking over to the Google news tab, I find something interesting: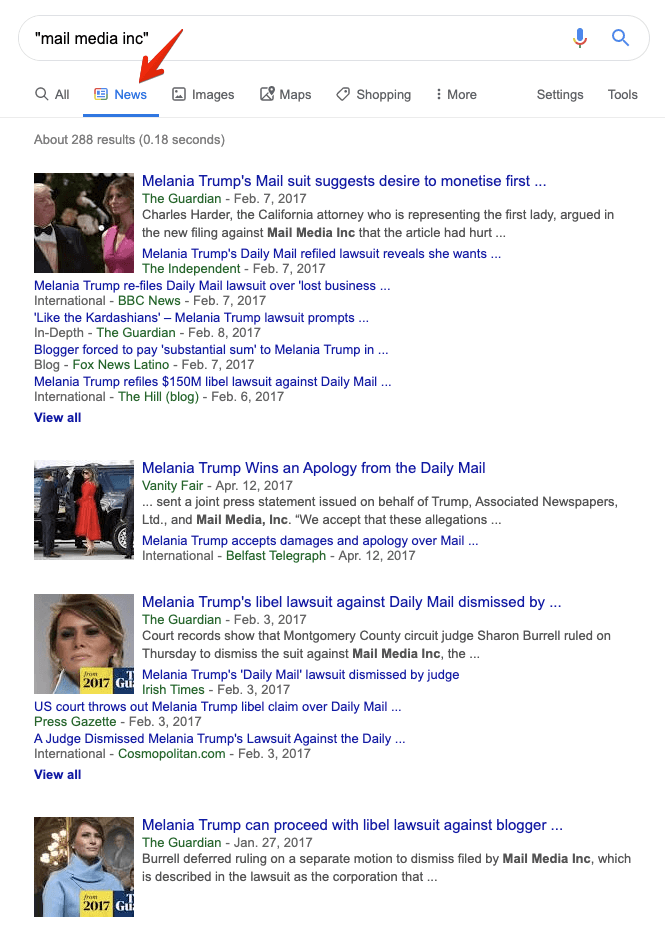 The top link gives me pretty much what I was looking for: https://www.theguardian.com/us-news/2017/feb/06/melania-trump-refiles-150-million-libel-lawsuit-daily-mail
Melania Trump's Mail suit suggests desire to monetise first lady role
This article is more than 2 years old
Suit refiled in New York claims Trump had 'once in a lifetime opportunity' to launch multimillion-dollar businesses
Tue 7 Feb 2017 18.06 GMT First published on Mon 6 Feb 2017 23.06 GMT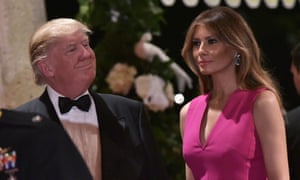 Melania Trump has refiled a $150m (£120m) lawsuit against the corporation that publishes the Daily Mail's website for reporting rumours that she worked as a high-end escort in the 1990s.
Charles Harder, the California attorney who is representing the first lady, argued in the new filing against Mail Media Inc that the article had hurt Trump's chances of establishing "multimillion-dollar business relationships" during the years in which she would be "one of the most photographed women in the world".
Harder was hired by Trump in September to take on Mail Media Inc along with blogger Webster Tarpley from Gaithersburg in Maryland, for reporting the "100% false" rumours that the former model had worked for an escort service. Trump filed the lawsuit in Maryland after both Tarpley and the Daily Mail issued retractions.
You might think that maybe the Daily mail is owned by Mail Media Inc. but no, they are owned by DMGT (Daily Mail and General Trust). But this is interesting, this new "unbiased arbiter of the truth" was sued for the 100% false accusation of the First Lady having worked as a hooker.
The Daily Mail is mentioned in the article, that along with their "article" that is really an advert for Newzit, I will assume they are closely related for now. Let's try a different method, let's search the address I found on their terms page earlier: https://www.google.com/search?q=%2251+Astor+Place+9th+Floor+New+York%2C+NY+10003%22 and look what comes up top:

So they share the same address as the Daily Mail, but they do not make that connection simple. I also found evidence that they themselves could not be listed by their own criteria listed on their "about page" of "but there is no fake news".
So how about the other claim, "Newzit is a new and unbiased search and aggregation tool", that's not so easy to quantify, as there is currently a circus known as an impeachment going on in the US, lets see how balanced and unbiased a search such as https://www.newzit.com/?q=trump comes out: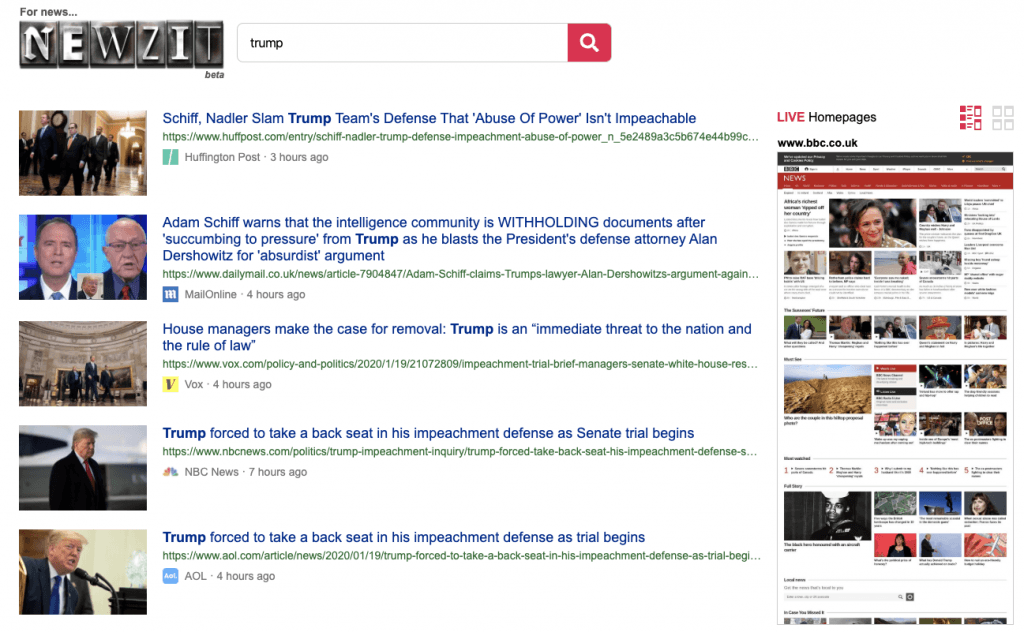 I'd say that was 5 for 5 biased against Trump.
Why has this been launched now? yes, to me this seems highly manipulative, and no improvement at all over any of the other popular search engines, because that all an aggregator is, a search engine.