Copied over from Jihadwatch for those affected.
This morning we had a dozen emails and half a dozen tweets sharing the error:
This site can't be reached
www.jihadwatch.org's server IP address could not be found.
DNS_PROBE_FINISHED_NXDOMAIN
The first I knew that something was up was yesterday afternoon on this post over at VladTepesBlog. And we might have seen it coming after CNN and the New York Times both defamed Jihad Watch in the space of 48 hours. We do get the occasional email from someone who can't get to the site. Sometimes it's just some transient technical error, and sometimes it's us intentionally blocking them because they have malware or a bad reputation for malicious activity. We subscribe to Alienvault, and we can correct that if needed.
But this was different.
This NXDOMAIN error is very specific. It means that a DNS A record could not be found. A DNS A record is how a site — in this case www.jihadwatch.org — is found on the Internet; it is similar to how a post/zip code is how your address is found, or a phone number finds you on a phone. But it should be impossible that Jihad Watch's DNS A record could not be found: Jihad Watch uses a cluster of enterprise DNS servers, and there were no alerts of failures. So it looks as of these widespread failures of people to reach the site is a result of an expansion of the censorship we saw a couple of years ago.
There are a couple of workarounds to these censorship methods: changing the default DNS servers your ISP/mobile operator provides, invest in a VPN, which is a better long-term solution.
Of course, when they censor us, there is no public announcement and no discernible pattern. Many people will blame the management of the site, not realizing that our harmless little site could be such a threat to the elites, and so heavily censored.
The reports today that people couldn't get to the site have been coming primarily from Europe and Israel. The only ISP we could identify was Virgin Media, but it does not appear to be limited to them.
Searching around, I found this new report from today at blocked.org.uk:
There seems to be a newly added block by "EE." "EE" is a collective of "Mobile operators turn filters on by default. They can be relatively hard to disable. They use BBFC guidelines, which exclude Suicide and self-harm promotion; Discriminatory language; Promotion, glamorisation or encouragement of drug use; Repeated / aggressive use of 'cunt'; Sex works; Fetish material; Adult Sex education and advice; Violence and Horror. Sites blocked are subject to an appeals process at BBFC, after complaints to the mobile company."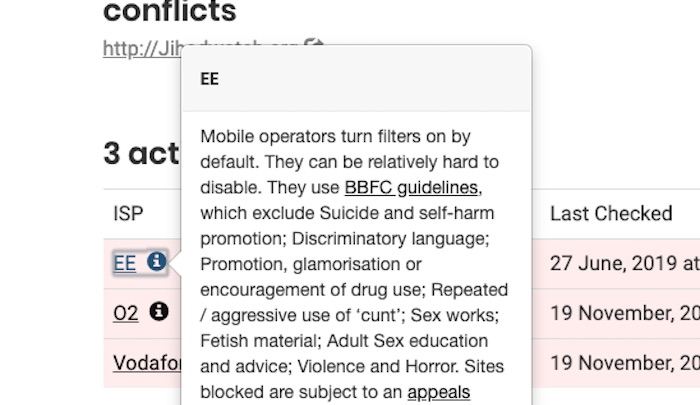 So Jihad Watch is being classed as anything but the usual false charge of "hate speech." Our postings and moderation of comments would never allow us to fall into any of these categories, so this block has been added by someone's decision. So where did this "EE" come from? You can read more on that here: https://www.internetmatters.org/. All this censorship is carried out under this Orwellian and misleading banner:
"Helping parents keep their children safe online"
It is unlikely to be a coincidence that this blocking has come days after multiple popular news outlets smeared us.
This site is under continuous attack. The significant ddos and attempted hack attacks have not let up for a second in years now. There are also escalating Attacks by Twitter and Facebook, Googleand fake news monitoring organisations such as NewsGuard.
Can I ask if you are one of those affected, please leave a comment with your Internet service providers name.