These were a surprise for me this morning, I have a dozen emails from some very worried visitors to Jihadwatch.org.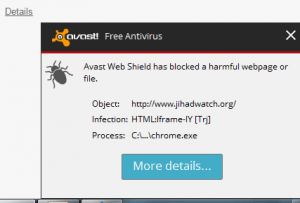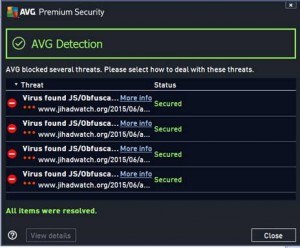 These warnings are not for a real virus, it is what is known as a "false positive" (they got it wrong), ironically it is the counter DDoS protection that the anti-virus software is flagging as malicious, but there is nothing malicious about it, the Javascript is totally benign, only checking if you are a real person, and not some bot.
This DDoS protection JavaScript keeps sites under brute force attack up for the public and is essential for some sites to run normally, I doubt there is political reason that they have raised this warning, just an error in their virus signatures, both Avast and AVG have been notified and I expect they will remove that warning.
13th June 2015 UPDATE: It looks like it was only Avast and AVG who got it wrong, they have since whitelisted JihadWatch as clean, with no explanation or apology for the original blacklisting.
19th June 2015 UPDATE: Avast are again wrongly listing Jihadwatch.org as being infected.
You can report false positives to Avast here: avast.com choosing report false virus alert.