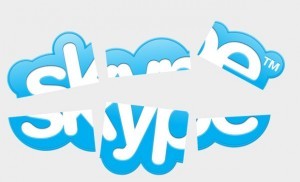 There is no doubt that the NSA have the ability, resources and approval from Microsoft to listen in on any communication if you believe what Snowden has told The Guardian. Reality is we don't know for sure, personally I don't care if the NSA is listening in on my conversations, there is a good chance they can, but I am fairly sure they would be the only ones with that ability, as the encryption Skype uses for all communication (chat, voice and video) is very strong, and without being provided a backdoor by Microsoft, the NSA would not have a chance. There is of course a chance that the NSA's security could be breached, and in turn your Skype would become insecure.
But the risks of using Skype are not solely limited to eavesdropping, there is another concern, although primarily aimed at gamers, there are online tools that allow you to convert a skype name to an IP address, there are many of them, based on the similar APIs, a bad actor having your IP address is not always a risk, if you don't use a VPN they would know your approximate geo location and who your ISP or cable operator are.
The bad actor could DoS you, which is what the original intent of these Skype IP resolver tools is, normally that's how they pay for the resolver hosting, by running adverts for "DoS for hire" services, known as "Booters" and "Stressers".
There is a new concern, where a user has multiple skype accounts, these tools have recently added a reverse lookup feature, so a single IP can be resolved to multiple Skype accounts.
There are many alternatives to Skype, but none used widely enough to confidently know the person you want to talk to will also using it.